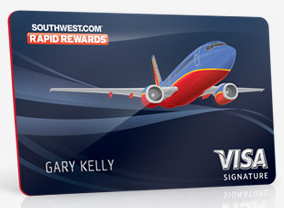 What is a Southwest Companion Pass?
 It is a pass from Southwest Airlines that allows you to bring a companion anywhere you fly…for free. Yep! Travel with your spouse, relative, friend, or foe for free for the next 2 years. You
also
receive $1,600 worth of free flights when you convert your bonus points!
How Do I get the Southwest Companion Pass? You need 100 one way flights in a calendar year OR 110,000 bonus points in order to receive a Southwest Companion Pass.
How to Earn 110,000 Bonus Points:
Earn your Southwest Companion Pass (110,000 bonus points) quickly by signing up for 2 Chase Southwest credit cards.
One will be for a personal account the other will be for a business account.

If you do not own a real business, you may still qualify.
You may also call the Chase Business Reconsideration Line (800-453-9719)  if you  do not qualify for a business card right away.
Here are some tips to make your phone call a success, courtesy of MillionMileSecrets.

You will get 52,000 bonus points from your personal card and another 52,000 bonus points from your business card

You must spend $2,000 on each card (total = $4,000) within 3 months
Make sure to wait until 2013 before you spend the total $4,000 in order to get your Companion Pass for 2013 and 2014
Sign up online to monitor your spending

To earn the extra 6,000 points needed you can:

Sign up for Choice Hotel Points and buy 20,000 Choice hotel points for $220 and transfer them for 5,882 Southwest Bonus Points HERE.
Spend $118 more on either of your Chase Southwest cards OR get 1,000 more Southwest Bonus Points by spending $29.99 plus shipping at TeleFlora, a Southwest Rewards Parnter.